STANDARD HORROR !
Standard tackled their horror line very tactical. They entered competition only at the height of the horror craze (along with St. John as one of the last publishers) and brought out (almost ever) exactly one book per month.
Starting with a nice and clean time-table: THE UNSEEN #5 in June 1952, OUT OF THE SHADOWS #5 in July, ADVENTURES INTO DARKNESS #5 in August, then continuing with THE UNSEEN #6 in September and so on… Putting a total of 31 horror issues on the newsstands.
Up front a brutal confession of a most personal nature:
A lot of Standard's horror stories have bored me to death. Maybe the authors misunderstood the function of a horror comic…
Usually I'd just fling the thing into the corner, jump up and down in a rage and yell tirades about "no-good trash" and so forth. But the thing with Standard is – the art is so beautiful.
It hurts to see these ARTISTS execute tales of meaningless lameness. Repetitions of clichés we've seen before in books of other companies – and seen them done better! What a cruel and senseless and tragic waste!
To top this verdict, here's another shocker: read the two-page text stories in each issue, please! These are often more entertaining than the comic stories – and would have made interesting scripts. Why didn't Standard go there?!
Ach! If my hair wasn't grey already, it would have turned so reading THE UNSEEN, OUT OF THE SHADOWS and ADVENTURES INTO THE UNKNOWN. So let's take a deep breath and search for the sunny side of Standard Horror. Every cloud has a silver lining; so look and look hard…
Spotlight: The Covers
Judging a book by its cover, Standard will win every time. Their title pages are simply wonderful. They present a new effort with each new issue.
I don't like those grid-like Atlas covers; ACGs were formulaic; the ones from the Iger Studio were crude; Star's were just going for weird color combinations; Ace always missed the point, and even the ECs are often not that good.
What baffles me is the fact that Standard did not employ a cover artist. The busiest (which can be identified) seem to be George Roussos and Jack Katz, but the majority is uncredited for and a mystery to all the known art spotters. It's hard to tell an artist by just one "panel". And they never signed a cover. Hold it, there's one (!) signed by Roussos.
The covers NEVER referred to a story inside, by the way. Mere teasers. Which is a phenomenon in itself. At other companies they did (not always, but often enough). Slight correction: One cover actually does refer to a story inside – the unpublished ADVENTURES INTO DARKNESS #15 (learn more under the entry there), what a stroke of irony.
Back to the beautiful covers: I love that "Unseen" logo, which blends beautifully (like the "Darkness" scroll) into the gloomy and moody motifs. "Out Of The Shadows" looks a bit mechanical though.
Standard title pages emanate a massive amount of despair. They are truly frightening.
You wouldn't wanna be in place of those poor folks being shocked out of their wits by a mummy, a vampire, a skeleton, a fiend. These covers transport imminent action and a small story in itself. What's going to happen next? Nothing good!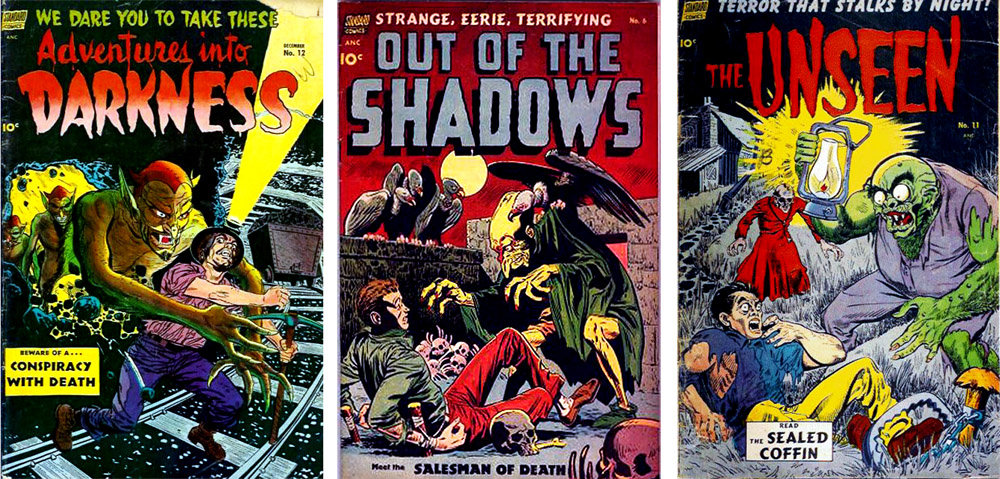 A devil springs at you; you stumble upon an unholy graveyard scene; you watch helpless and terrified as a ghoul is boiling human heads! Strong stuff. So much the worse that the stories inside seldomly live up to the promise.
Spotlight: The Artists "Scoreboard"
Because Standard story lengths range from a half up to nine pages, we won't count the jobs, but the pages executed per artist. So here's our general count, added together from all three series:
130
Mike Sekowsky
(mostly inked by Mike Peppe)
112
Rocco Mastroserio
112
George Roussos
(32 with Mort Meskin)
108
Jack Katz
78
Alex Toth
(inked by Mike Peppe)
52
John Celardo
42
Gene Fawcette
42
Nick Cardy
36
Ross Andru
(partly with Mike Esposito)
31
Art Saaf
30
Mike Roy
29
Ralph Mayo
18
Jerry Grandenetti
16
George Tuska
15
Reed Crandall
(8 with Mike Peppe)
14
Ruben Moreira
10
Charles Sultan
That's 17 artists who contributed to Standard's line of horror comic books; the main body of work done by the "Top Five": Sekowsky, Mastroserio, Roussos, Katz and Toth.
In addition there are singular jobs under ten pages by Rafael Astarita, Murphy Anderson, Frank Giacoia, Sam Citron and Pete Morisi. Only two "long" stories (over three pages) show mystery artwork. The rest has been credited quite safely to the above mentioned artists. We'll have a closer look at the first 12.
When you think of Standard's horror books, one name springs to mind, because he was their finest artist: Alex Toth.
It surprised me to learn that four other artists contributed significantly more work. So let's take it from the top.
MIKE SEKOWSKY
The most prolific artist I came across in my studies about pre-code horror. From 1951 on this man is credited (on Grand Comics Database) with approximately 4 stories per month. EACH month for the next years. Highpoint being October 1953 with 9 (!) story credits. This is next to impossible. Someone should probably check this…
Anyway, Sekowsky comes over from Ace Magazines, where he was a mainstay for mystery at THE BEYOND et al. Comparing his jobs one notices instantly that his work for Standard is much more inspired.
Sekowsky flourishes alongside his friend Toth – and is inked by the more than capable Mike Peppe. He is oftentimes on par with Toth; the mutual inker may be a meaningful factor. Sekowsky delivers wonderful horror artwork; I've never seen him do better.
ROCCO MASTROSERIO
Yet another "refugee" from Ace. He was inking the fledgling Lou Cameron and left when the latter went solo. At Standard Mastroserio was given the chance to display his talent to full extent.
Though his characters' poses and facial expressions sometimes tend to be a bit clumsy, he is an exquisite horror artist handling the color black very effectively and setting up his "camera" in most useful ways. When Standard closed shop and horror went out of business, Rocco found work at Charlton and drew western comic books for the next years.
GEORGE ROUSSOS
A 1940s veteran from the house of DC and connecting with Standard in 1949, Roussos skids into their line-up for horror (maybe because he was with ECs "new trend" in 1950/51). I do not consider him to be a good artist, but he fits in astonishingly well. He should crumble to dust – next to Sekowsky, Toth, Celardo, Cardy or Fawcette. But he doesn't.
His artwork is the crudest and most amateurish to be found in Standard books, yet Roussos is not the nuisance one would suspect him to be. Though his compositions are run of the mill, his faces look pudgy and his use of perspective is boring, there is a "gloom" to his panels which can be called unique.
You will recognize a Roussos story, like you will one by Howard Larsen. They share a level of abstraction; their work is more about the story's atmosphere, not so much about the players inhabiting the stage.
JACK KATZ
The same goes for Jack Katz, a rookie starting out with THE UNSEEN #6. Not a "good" artist, crude style, masters only two dimensions. But memorable like hell. A very nice addition to Standard's artist roster. His way of "filling" panels and "arranging" compositions are really unique.
His faces transport an underlying message of greed and lust – pointing beyond the cartoony pretense. A story illustrated by Katz (there are only 15 full-length ones!) should not be lacking from a 1950s horror anthology. He left for Atlas at the beginning of 1954.
ALEX TOTH
A trend-setter and groundbreaker in graphic design. One of the greats. A meticulous craftsman who always reflected on the things he was drawing. An artists' artist who influenced many of his colleagues.
Seems to me that this is already the case at Standard. Looking at Cardy, Andru, Celardo, Roy and especially Sekowsky there's a Toth-like "house style" at work in these horror books.
Sekowsky, Mastroserio, Roussos, Katz and Toth are the "Gang of Five" at Standard.
They are being followed by seven more artists who can be considered as "regulars", coming up here:
GENE FAWCETTE
Starts illustrating filler pages for the famous WINGS COMICS at Fiction House in the early 1940s, gets a shot at long stories with Quality's NATIONAL COMICS in the mid-1940s and is to be found at Standard around 1947. Doing jungle adventures in quite a different style.
He can escape the jungle and turns up at Avon in 1950.
Fawcette is allowed some science fiction covers and stories, but also bikini babes in WHITE PRINCESS OF THE JUNGLE. After a short stint with Avon's horror book WITCHCRAFT (two stories, one of them drowned by Alascia inks) he knocks again on Standard's doors – only to be drawing fillers again!
It's a shame that Fawcette only did 9 stories two or three pages long. His fine-lined and mostly light style is very peculiar and refreshing to look at.
He could have been what Louis Zansky was for Ace's horror mags – an artist with a highly recognizable and distinct expression. They didn't let him be.
Fawcette survived three more years in the comic book business drawing funny features like CUTIE PIE and SUPERMOUSE. This is almost tragic.
ROSS ANDRU
The lament goes on. A crying shame that this fine artist did not contribute MORE to Standard's horror books. (The same goes for the next two men coming up, just telling you in advance). Andru is one of the best beginners the business has ever seen.
Starting in 1951 (one of his first jobs is a romance story) Andru mainly works for Standard in 1952/53. Delivering fantastic work for their JOE YANK series. 6 horror stories bear his mark.
JOHN CELARDO
I took an instant liking to Celardo. He is to me the more elegant version of Mastroserio. As a 1940s veteran for Quality and Fiction House, Celardo enters the doors of the Standard offices around 1949. Doing the casual mystery story for ACG, he becomes Standard's allround artist for western, war, romance, science fiction and eventually horror as well.
Celardo seems to have been a staffer. His panels look smooth and inventive, secure in every detail. A joy to look at. He only illustrated 6 long stories for Standard's horror line. I am very much inclined to check out other titles – just for his artwork.
NICK CARDY
Another 1940s veteran coming over from Fiction House and Quality. Aligning himself to the house of DC, Cardy only stays for an interlude at Standard.
Like Fawcette he only does 9 longer stories and is missed when he leaves in the beginning of 1954.
His horror illustrations are so compact and inventive (dismal too) that he can be easily mistaken for Toth. Luckily, better art spotters than me have drawn the lines and sorted things out.
ART SAAF
The next one from the Fiction House connection. Also changes to Standard in 1949 working on all the adventure titles. Illustrates surprisingly little for their horror books. Saaf's style is clean and crisp and more suited for the romance comics like INTIMATE LOVE, POPULAR ROMANCE, THRILLING ROMANCES and (who would have believed it?) NEW ROMANCES.
Have a look at his "Death Drum" (posted on our "Stories" section) – which in fact has the feeling of a love story gone terribly wrong.
Saaf seems to disappear from the face of the earth in 1954, but emerges again 15 years later at DC – doing romance books again. How cruel can fate be?!
MIKE ROY
An old acquaintance who worked shortly for Charlie Biro's crime comic books. Did odd jobs for Avon, Hillman and Eastern Color before landing those precious few horror stories for Standard.
Moved instantly on to the Sterling company and contributed to their two pre-code horror books (THE TORMENTED). Later on Roy was seen at St. John, DC and Pines – a true illustrating nomad. His style is in no way special, I deem him to look like a crossover between Sekowsky and Grandenetti.
Spotlight: Story Titles and Settings
What are the topics of Standard horror?
Where Atlas for example did endless variations about the vampire, werewolf and zombie tune, Standard refrained from supernatural personnel. They did hardly ever rely on vampires, werewolves and zombies. There is some witchcraft going on though. Haunted killers and evildoers are the most recurrent theme.
Concerning the story titles – "Death" is the most used word: Dr. Death, Death Drum, Till Death Do Us Part, Death Warmed Over, Two Deaths To Die, Interlude For Death, Death Wish, Death Tolls The Bell, Death Reaches Out, Stronger Than Death, Hands Of Death, Death Follows Orders, Bride Of Death, Death's Bridal Gown and Frozen Death.
Runners-up are combinations with "Horror", "Phantom", "Evil", "Devil" and "Satan".
Looking at the story contents, I get the impression that the Standard writers rummaged through the "horror canon" and ticked off plot for plot.
Do a story about mermaids, musicians, dancers, circus people, painters, the bayous, monster insects, tigers, the afterworld, a genie, World War II, adventurers, treasure hunters, amputated hands, cannibals, ancient curses, gamblers, pacts with the devil, executioners… and so on.
I may be unfair, though. Comic books were an assembly-line operation in the 1950s; most of the companies worked as fast and as cheap as they could – not caring for originality. Exceptions to the rule are surely EC and Harvey.
But still. There is no editorial attitude in Standard horror. They never addressed their readers; they never installed a letter's page. They packed anything in these books. It's arbitrary. I think that's shameful, considering the artwork that went with it.
And here's a "biggie" I almost overlooked: Standard's horror tales are not hosted!
I realize that just now after having read ALL of them and feeling uneasy about them. This may be THE crucial point which tips the scales. Horror writing without host won't get off the ground unless it's really masterful or offers fast-paced insanity right from the beginning.
I can count on my two hands those few Standard stories which accomplished one or the other.
The horror yarns from Ace Magazines weren't hosted either (okay, except THE HAND OF FATE), but they transport a whole other look-and-feel. Because they cared about their characters! That cannot be said about the Standard horror line. Very sadly.
This is my mantra: artwork will charm you, but writing will impress you.
A Standard Oddity: Start With Number 5, Please.
This must have driven collectors in the 60s and 70s insane: Trying to find THE UNSEEN #1, or ADVENTURES INTO DARKNESS #2 or OUT OF THE SHADOWS #3. This proved to be mission impossible. Because those issues do not exist!
Oddly enough, Standard chose to label a new comic book with starting number 5. This goes for almost all of their books (exceptions are mentioned in the upcoming appendix).
Why would they do something crazy like that? Why did the competition never complain about that? Or even imitate this erratic behavior?
Comics historian George Suarez suggested in his excellent horror studies ("Tales Too Terrible To Tell", not sure if it's still available, but have a look HERE) that this may have been an elaborate ruse to make newsagents believe that this comic book was no hopeless newcomer to the rack, but on the contrary a middleweight champion with already four successful issues under its belt.
Appendix: STANDARD Chronology 1952-55
To give you an overview of the company's output, here's a listing of all their comic books from January 1952 to September 1954.
Right column: horror books  –  Left column: every other comic book published in these years
As we see, Standard is relaunching its line-up in the first half of 1952. Dropping old titles and losing some funny animal books, they go for the romance market, try out some war books and install their three horror titles, of course.
They plan it quite strategically; there'll be at least one horror book every month (and mostly exactly one!). And they cling on to their horror line, when all the other experiments have failed or petered out.
January 1952
THRILLING ROMANCES #17
NEW ROMANCES #9
WILLIE THE PENGUIN #5 (not first)
BUSTER BUNNY #12
DIZZY DUCK #38
GOOFY COMICS #47
February 1952
BEST ROMANCE #5 (first)
INTIMATE LOVE #16
POPULAR ROMANCE #17
KING COMICS #159 (last)
JIGGS AND MAGGIE #21 (last)
BILL WEST #10 (last)
SUPERMOUSE #17
HAPPY RABBIT #47
COO COO COMICS #61 (first)
KATHY #10
March 1952
THRILLING ROMANCES #18
TODAY'S ROMANCE #5 (first)
NEW ROMANCES #10
REAL LIFE COMICS #57
JOE YANK #5 (first)
GOOFY COMICS #48 (last)
WILLIE THE PENGUIN #6 (last)
BUSTER BUNNY #13
DIZZY DUCK #39 (last)
SNIFFY THE PUP #14
April 1952
INTIMATE LOVE #17
POPULAR ROMANCE #18
SUPERMOUSE #18
COO COO COMICS #62 (last)
HAPPY RABBIT #48 (last)
May 1952
BEST ROMANCE #6
THRILLING ROMANCES #19
TODAY'S ROMANCE #6
NEW ROMANCES #11
JOE YANK #6
KATHY #11
June 1952
BATTLEFRONT #5 (one-shot)
REAL LIFE COMICS #58
POPULAR ROMANCE #19
MY REAL LOVE #5 (one-shot)
OZARK IKE #24
SUPERMOUSE #19
SNIFFY THE PUP #15
THE UNSEEN #5 (first)
July 1952
INTIMATE LOVE #18
THRILLING ROMANCES #20
TODAY'S ROMANCE #7
NEW ROMANCES #12
THIS IS WAR #5 (first)
OUT OF THE SHADOWS #5 (first)
August 1952
BEST ROMANCE #7 (last)
POPULAR ROMANCE #20
JOE YANK #7
SUPERMOUSE #20
KATHY #12
ROGER DODGER #5 (one-shot)
ADVENTURES INTO DARKNESS #5 (first)
September 1952
FANTASTIC WORLDS #5 (first)
EXCITING WAR #5 (first)
THRILLING ROMANCES #21
TODAY'S ROMANCE #8 (last)
NEW ROMANCES #13
CRIME FILES #5 (first)
REAL LIFE COMICS #59 (last)
OZARK IKE #25 (last)
SNIFFY THE PUP #16
THE UNSEEN #6
October 1952
LOST WORLDS #5 (first)
INTIMATE LOVE #19
POPULAR ROMANCE #21
THIS IS WAR #6
JOE YANK #8
SUPERMOUSE #21
OUT OF THE SHADOWS #6
ADVENTURES INTO DARKNESS #6
November 1952
THRILLING ROMANCES #22
FANTASTIC WORLDS #6
CRIME FILES #6 (last)
GANG WORLD #5 (first)
JET FIGHTERS #5 (first)
KATHY #13
THE UNSEEN #7
December 1952
LOST WORLDS #6 (last)
INTIMATE LOVE #20
NEW ROMANCES #14
EXCITING WAR #6
THIS IS WAR #7
JOE YANK #9
DATE WITH DANGER #5 (first)
JETTA OF THE 21st CENTURY #5 (first)
SUPERMOUSE #22
SANTA'S CHRISTMAS COMICS (one-shot)
ADVENTURES INTO DARKNESS #7
January 1953
FANTASTIC WORLDS #7 (last)
POPULAR ROMANCE #22
THRILLING ROMANCES #23
GANG WORLD #6 (last)
JET FIGHTERS #6
WHO IS NEXT? #5 (one-shot)
LUCKY DUCK #5 (first)
THE UNSEEN #8
OUT OF THE SHADOWS #7
February 1953
INTIMATE LOVE #21
EXCITING WAR #7
JOE YANK #10
DATE WITH DANGER #6 (last)
JETTA OF THE 21st CENTURY #6
KATHY #14
SUPERMOUSE #23
ADVENTURES INTO DARKNESS #8
March 1953
NEW ROMANCES #15
THIS IS WAR #8
JET FIGHTERS #7 (last)
BUSTER BUNNY #14
THE UNSEEN #9
April 1953
POPULAR ROMANCE #23
JOE YANK #11
JETTA OF THE 21st CENTURY #7 (last)
SUPERMOUSE #24
LUCKY DUCK #6
OUT OF THE SHADOWS #8
ADVENTURES INTO DARKNESS #9
May 1953
INTIMATE LOVE #22
EXCITING WAR #8
THIS IS WAR #9 (last)
KATHY #15
PETER PIG #5 (first)
THE UNSEEN #10
June 1953
NEW ROMANCES #16
SUPERMOUSE #25
SNIFFY THE PUP #17
ADVENTURES INTO DARKNESS #10
July 1953
POPULAR ROMANCE #24
LUCKY DUCK #7
BUSTER BUNNY #15
OUT OF THE SHADOWS #9
August 1953
NEW ROMANCES #17
INTIMATE LOVE #23
KATHY #16
JOE YANK #12
SUPERMOUSE #26
PETER PIG #6 (last)
DENNIS THE MENACE #1 (first)
THE UNSEEN #11
September 1953
SNIFFY THE PUP #18 (last)
LUCKY DUCK #8 (last)
RICKY #5 (one-shot)
ADVENTURES INTO DARKNESS #11
October 1953
POPULAR ROMANCE #25
INTIMATE LOVE #24
NEW ROMANCES #18
JOE YANK #13
SUPERMOUSE #27
BUSTER BUNNY #16 (last)
OUT OF THE SHADOWS #10
November 1953
EXCITING WAR #9 (last)
DENNIS THE MENACE #2
THE UNSEEN #12
December 1953
POPULAR ROMANCE #26
INTIMATE LOVE #25
NEW ROMANCES #19
SUPERMOUSE #28
ADVENTURES INTO DARKNESS #12
January 1954
THRILLING ROMANCES #24
JOE YANK #14
OUT OF THE SHADOWS #11
February 1954
INTIMATE LOVE #26
POPULAR ROMANCE #27
DENNIS THE MENACE #3
SUPERMOUSE #29
THE UNSEEN #13
March 1954
NEW ROMANCES #20
OUT OF THE SHADOWS #12
ADVENTURES INTO DARKNESS #13
April 1954
THRILLING ROMANCES #25
INTIMATE LOVE #27
POPULAR ROMANCE #28
JOE YANK #15
SUPERMOUSE #30
THE UNSEEN #14
May 1954
NEW ROMANCES #21 (last)
DENNIS THE MENACE #4
OUT OF THE SHADOWS #13
June 1954
THRILLING ROMANCES #26 (last)
SUPERMOUSE #31
ADVENTURES INTO DARKNESS #14
(last)
July 1954
POPULAR ROMANCE #29 (last)
JOE YANK #16 (last)
DENNIS THE MENACE #5
THE UNSEEN #15 (last)
August 1954
INTIMATE LOVE #28 (last)
SUPERMOUSE #32
OUT OF THE SHADOWS #14 (last)
September 1954
LITTLE ANGEL #5 (first)
DENNIS THE MENACE #6
This is some seriously crazy publication schedule!
Almost every month books get launched or cancelled. Some are launched and immediately cancelled at the same time (the unlucky one-shots BATTLEFRONT, MY REAL LOVE, ROGER DODGER, WHO IS NEXT? and RICKY). Other series won't live long enough to see even a third issue (BILL WEST, the second installment of COO COO COMICS, CRIME FILES, DATE WITH DANGER, GANG WORLD, LOST WORLDS or the unwanted funny animal PETER PIG).
The ambitious science fiction series FANTASTIC WORLDS only comes out three times. As do the war title JET FIGHTERS, the humor feature JETTA OF THE 21st CENTURY and the romance book BEST ROMANCE. Which is a shame. One should be grateful that Standard put up with the horror books as long as they did. 31 issues of UNSEEN, DARKNESS and SHADOWS. Can't say they didn't try.
In the summer of 1954 things get really bleak. 8 long running titles get axed and nothing new is going up. Standard is leaving the business.
Some of the above entries are speculative (because no actual month is given in the Grand Comics Database). We deducted the dates by the (mostly known) publication frequency.
WILLIE THE PENGUIN is a rare exception (to the start-with-number-five-rule). Launched in mid-1951, it ran from numbers 1 to 6 (and did NOT start with a #5).
The one-shot BATTLEFRONT was published in June 1952 and clashed with BATTLEFRONT from Atlas (which came out simultaneously) and was immediately cancelled. In July Standard launched a new combat title called THIS IS WAR.
The last comics launched are DENNIS THE MENACE (also starting with a #1!), a sure-fire license product, and the short-lived LITTLE ANGEL (two issues) which is interestingly enough a female DENNIS clone! Also published were: THE KATZENJAMMER KIDS #21 (sometime in 1953) – possibly also issues #18-20 (in 1952/53).
Note: FICTION HOUSE & STANDARD HORROR is a spin-off of the German website
FIFTIES HORROR
(presenting pre-code horror in general to an unsuspecting public). FICTION HOUSE & STANDARD HORROR specializes in the products of two specific companies and is therefore drafted in the English language. The sister website
ACE HORROR
is already online.
Acknowledgements:
All the folks at the Digital Comic Museum (DCM) and the Grand Comics Database (GCD), who have been incredibly supportive – as always. Special mention goes to Mike Benton and George Suarez, who have been breaking ground for pre-code horror research in the 90s.
And of course a big hand (drumroll) for (you guessed it) Jim Vadeboncoeur, Jr., the man with all the wisdom and generosity.
Jim loaned me dozens of comic books, which I scanned and uploaded to the Digital Comic Museum. All horror magazines from Fiction House and Standard are online.
If you like to read on, click on the "Series Section"
(THE UNSEEN, OUT OF THE SHADOWS, ADVENTURES INTO DARKNESS or GHOST/MONSTER) for our issue by issue review for all books.